The Leader in Answering and Call Center Services

Ideal for a small business or start-up, our suite of Basic Services allows you to enjoy full-featured call center capabilities for a low cost. Stay in touch with your customers 24 hours a day/seven days a week and never miss an important call again.

For medium-sized businesses, CallCenterUSA offers such sophisticated features as help desk and customer service support, virtual receptionist, and disaster recovery, all with highly trained US-based call center staff who will handle your calls professionally and efficiently.

Designed to meet the demands of large businesses, our Enterprise Services can handle all your phone, web and email traffic; from high volume reservations and call overflow to detailed order taking and disaster standby and recovery. Our state-of-the-art redundancies and backups ensure that your calls are always answered.
Do you need to hire a call center agency?
Let's Connect you to the
BEST Call Center available Today…
What can a Call Center do for you?
If you think a call center is nothing more than a human answering machine, it's time to meet CallCenterUSA. We'll help you turn your phone into one of your strongest assets—and we do it at a price that can't be beat.
CallCenterUSA ensures that all your calls are quickly answered by well-trained, friendly operators
Manages fluctuating call volumes.
Inexpensively conducts market research and collects data.
Staff advertising campaigns with smart, personable representatives.
Provides appointment reminders and schedules/reschedules appointments.
Conducts customer follow-up and satisfaction surveys that increase customer loyalty.
Use CallCenterUSA to screen calls.
Answer your customers' questions, based on an FAQ you provide.
Email customers marketing materials while they're on the phone.
Run your online agent or text-based online support program.
Extend your support hours.
Offer professionally handled customer service and support.
From large metro areas to more rural cities,
CallCenterUSA offers top-rated live answering service nationwide.
Atlanta
Los Angeles
New York
Houston
Miami
Orlando
Naples
Chicago
Las Vegas
Philadelphia
Charlotte
Dallas
Beverly Hills
Irvine
Jacksonville
Denver
San Francisco
Washington, D.C.
Phoenix
Birmingham
Boca Raton
Outsourcing | American Call Centers
Whether you operate a small business or are part of the Fortune 500, CallCenterUSA knows your company is unique. We work with all of our companies individually, so you select only the services that benefit you most.
CallCenterUSA serves as a valuable part of your team, providing coverage after hours, on weekends, and even on holidays. We offer multiple delivery options (text, email, secure messaging app, phone, or fax) for all transactions and provide you with real data, including daily reports and logs, which allow you to access information quickly and make better decisions for your company.
Our trained operators treat every caller the same way you would—with the utmost respect, courtesy, and professionalism. Your customers get the service they deserve, and you get an entire team dedicated to helping you become more efficient and more profitable.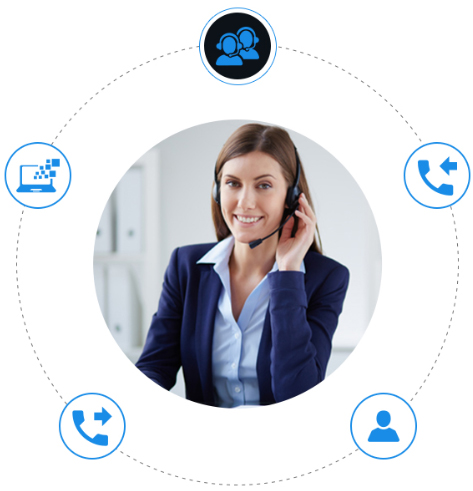 Professional, scalable services
The hallmark of CallCenterUSA is personalized, professional call center services. We don't offer cookie-cutter solutions. Each member of your call center team is experienced and trained in your industry or profession. We don't offer one-size-fits-all approaches because our clients are all different. Because we are a large call center, we can offer you a wide range of answering or call center services that others find hard to duplicate. As you grow, we can scale your CallCenterUSA team accordingly. No need to allocate extra personnel, equipment, or space in your own business – a pricey proposition. We can turn on a dime to handle your business' growth and call volume without any disruption to your service.
We have some customer questions that seem to come up more than once. Therefore we find it important to address these questions and concerns upfront, so that everyone understands how this all works. We are a dedicated team of professionals that wants what is in your best interest. Should you have questions outside of what is addressed here, please ask. We are happy to assist!